Griffin-Hammis Associates
Transformative Employment Opportunities for All
Published Works by Griffin-Hammis Associates
Free-to-Download Publication
Customized Employment (CE) represents a nuanced departure from traditional competitive and comparative approaches to developing work. True CE is hard to come by actually. This collection of examples is offered to point out the sometimes less obvious nuanced methods vital to customization.
Please use this publication for staff in-service training, for family education, to bolster employment seekers' outlook, and to augment examples of successful companies that modified their hiring approaches to accommodate new workers.
Our Publications Available from Brooks Publishing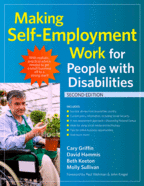 Making Self-Employment Work for People With Disabilities
"In this book, Cary Griffin and David Hammis create not only a vision of the possibility of self-employment but a thorough and practical guide to making it happen in communities."
Dr. David Mank, Executive Director,
Indiana Institute on Disability and
Community, Indian University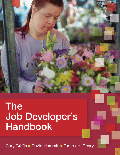 The Job Developer's Handbook
"The authors have once again produced work which is visionary, realistic, and inspiringly doable..."
Jim Corey, WISE Seattle

"...the most effective, functional, how-to piece that exists to date."
Corey Smith, VIA Pennsylvania